Newest table-top confectionery depositing machine which is suitable for chocolates, caramel, jelly, hard candy and soft candy depositing. Designed for filling polycarbonate, silicone molds and chocolate shells with fluid ganache, nougat, couverture or liquor. Deposit one row at a time with a precise dose of ingredients. The heated nozzles and heated hopper with adjustable temperature control to successfully deposit both high and low heat ingredients. Cavity mould volume is adjustable and nozzles can be aligned to best accommodate different molds.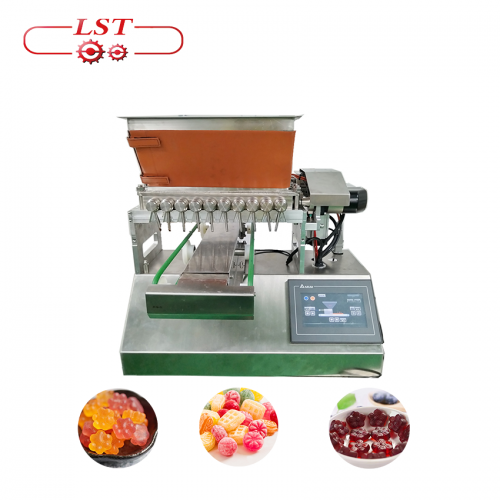 Main Parameters
-Deposit Times: 30-40 times/min
-Deposit Weight: 1-7 grams
-Hopper Capacity: 10L
-Productivity: 60-100kg/h
-Material ; SSS304
-Maxinum heat: 130℃
-Nozzle/Piston: 10pcs
-Nozzle spacing: 35mm
-Power Input: 110-240V AC 50-60HZ
-Dimension:620*550*600mm
Main Features:
This gummy depositor adopts a compact and space saving table top design;
2. 10 nozzles can be adjustable and removable, with a choice of nozzles' length and number;
3. 2 Servo motors+PLC controlled depositing with touch screen;
4. Double heating systems---hopper heating system and depositing nozzles heating system;
5. Pallet carrier included(can be customized according to different molds), disassembly without tools to cleaning and CE certified;
6. This machine can make gummy, chocolate and hard candy, suggested heat setting:30℃ for chocolates, 65℃ for gummies, 130℃ for hard candies.
Any interest, please feel free to contact us!
---
Post time: Aug-17-2022